When Instagram got its popularity, it pulled all the people into its platform. Have a business page and want to know how to share your profile link on external sites? Or just opened up your Instagram account and want to share your profile to gain more followers?
We got you covered. In this guide, we will walk through three different methods that guide you on how to share Instagram profile links. 
All these methods are an indirect way to copy the URL, as Instagram doesn't have the direct option to copy the profile URL. 
Let's get started. 
How To Share Your Instagram Profile Link From App? 
Most users open Instagram from their mobile app. If you are also using your mobile app to copy your URL, these methods work better for you. 
Method 1: Creating Your Profile URL
Yes, you can create your own Instagram profile URL, as all the Instagram accounts follow the same URL structure. 
To do this, 
Log in to your Instagram account and copy your username. 
Your Instagram profile link will follow the structure www.instagram.com/username. 

In the above link, structure edit the username section with your profile name. 
That's it, your profile link is ready to get shared from the app. 
Method 2: From a browser,
To do this, 
Open Instagram from your browser. 

In the search bar type your Instagram profile name. 

Open your account without logging in.

Then copy the URL available on the search bar.
This is how you can copy your profile URL from a mobile browser. This method works the same for desktops, Android, and iPhones. 
Method 3: Creating another account
If you have another account you can simply follow these steps to copy your profile URL in minutes. 
Open your Instagram from your second account. 

Navigate to the search bar and type your first username. 

From the search result open your profile. 

Within your profile section, you can find three dots on the top right section.

Click on the three dots and select the copied URL from the popup menu. 
Alternatively, you can ask your friend to copy the profile URL and share it with you through direct message on Instagram. 
Bonus method: 
With the new feature of Instagram, you can share your QR code for your profile.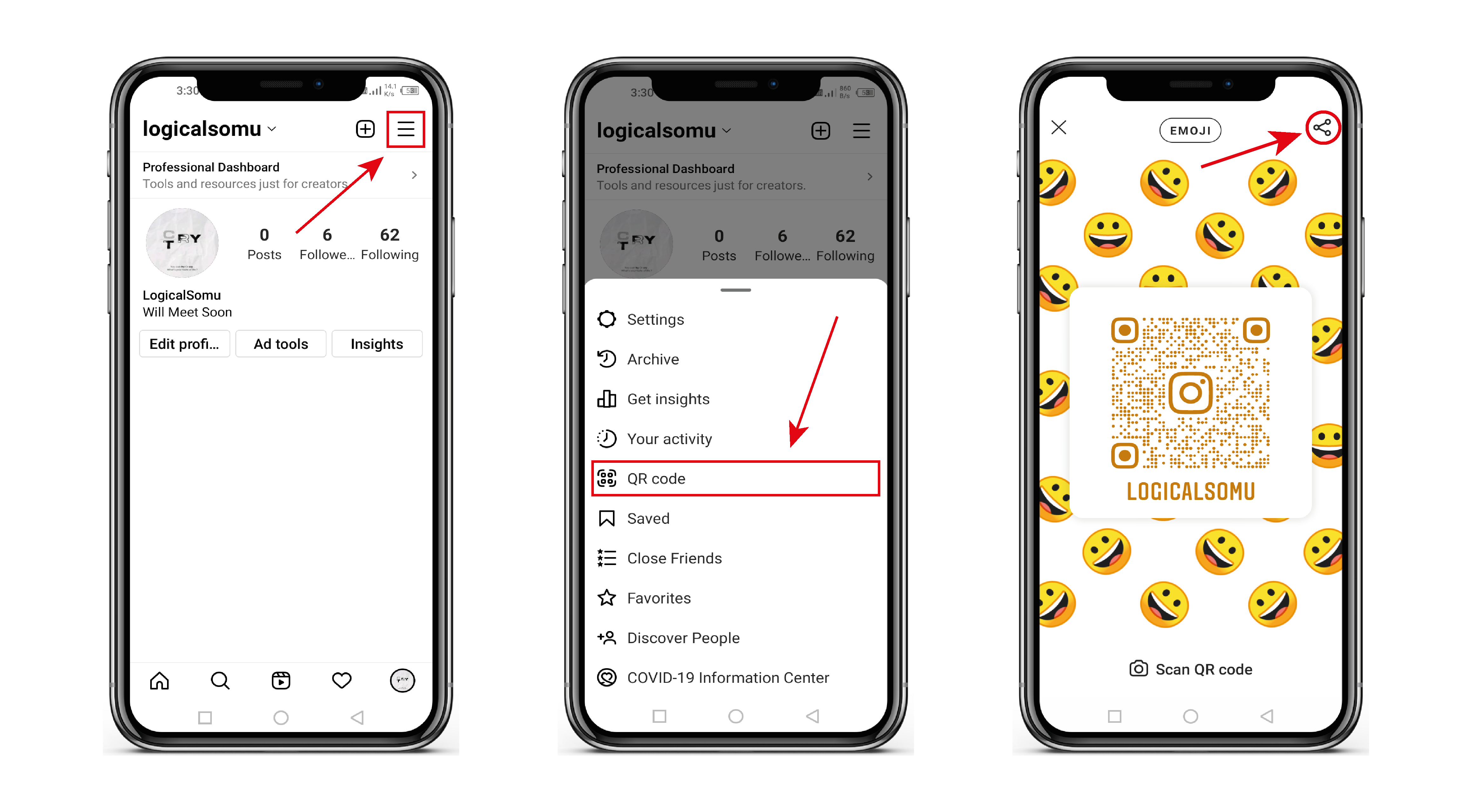 To do this, 
Log in to your Instagram and go to your profile section. 

Click on the three horizontal lines in the top right corner.

From the pop-up menu, select the QR code. 

When you click, you can see a QR code for your profile. 

Click on the share button available in the top right corner. 

Now you can share your QR code with other applications. 
If someone scans your QR code it will automatically navigate them to your profile. 
How to share your Instagram profile link on WhatsApp status? 
This method is straightforward. 
Copy the URL by using any of the methods mentioned above. 

Go to your WhatsApp and make a status with the link. 
Whoa! Now your Instagram profile link will be visible to your WhatsApp community. 
So we hope this article about how to share an Instagram profile link, helps you to share your profile link.
Also, Read