Getting 1000 followers on Instagram is a milestone for any beginner, especially if you are looking to become an Instagram influencer. 
In this article, You will learn about 7 actionable tips to help you get 1000 followers on Instagram. These strategies are proven, tested, and used by popular influencers. 
Bonus at the end – Exclusive Secret tips from 2 Instagram influencers with more than  1 million followers. 
Let's dive in. 
How To Get 1000 Followers On Instagram For Free
1. Profile Optimization 
Optimizing your profile with perfect keywords and a copy will make your profile appear on Instagram search results for the keyword.  
Sum up who you are or what your page is all about. Also, mentioning keywords on your Bio will provide better discoverability. 
The next step is to have a clear and recognizable profile picture. It can be either you or your brand's logo, but make it perfect, as it is your identity. If you have a website you can directly paste your website link on your Bio and drive the traffic to your website. Alternatively, use linktree to offer your services without a website. 
2. Observe Your Competitors & Audience
Competitors 
Before posting immediately after profile optimization, analyze your competitor and audience.
Check how your competitors are performing and how frequently they are posting. When you monitor your competitor and their posts you can get a clear idea of how to post and what to post. 
Audience
Check how your competitors are getting engaged with your target audience for specific kinds of posts. 
Ask and find the answers for, 
What are the posts that your audiences are reacting to?

What images or videos are attracting your audience?

Which caption made them take action? 

What kind of posts is likely to get more comments and shares from your audience? 
Once you discover the answers, the next steps will be as simple as cake slicing. 
3. Create A Content Calendar
Develop your audience persona with the above questions. Make a list of posts that you are going to make regularly. 
It can be,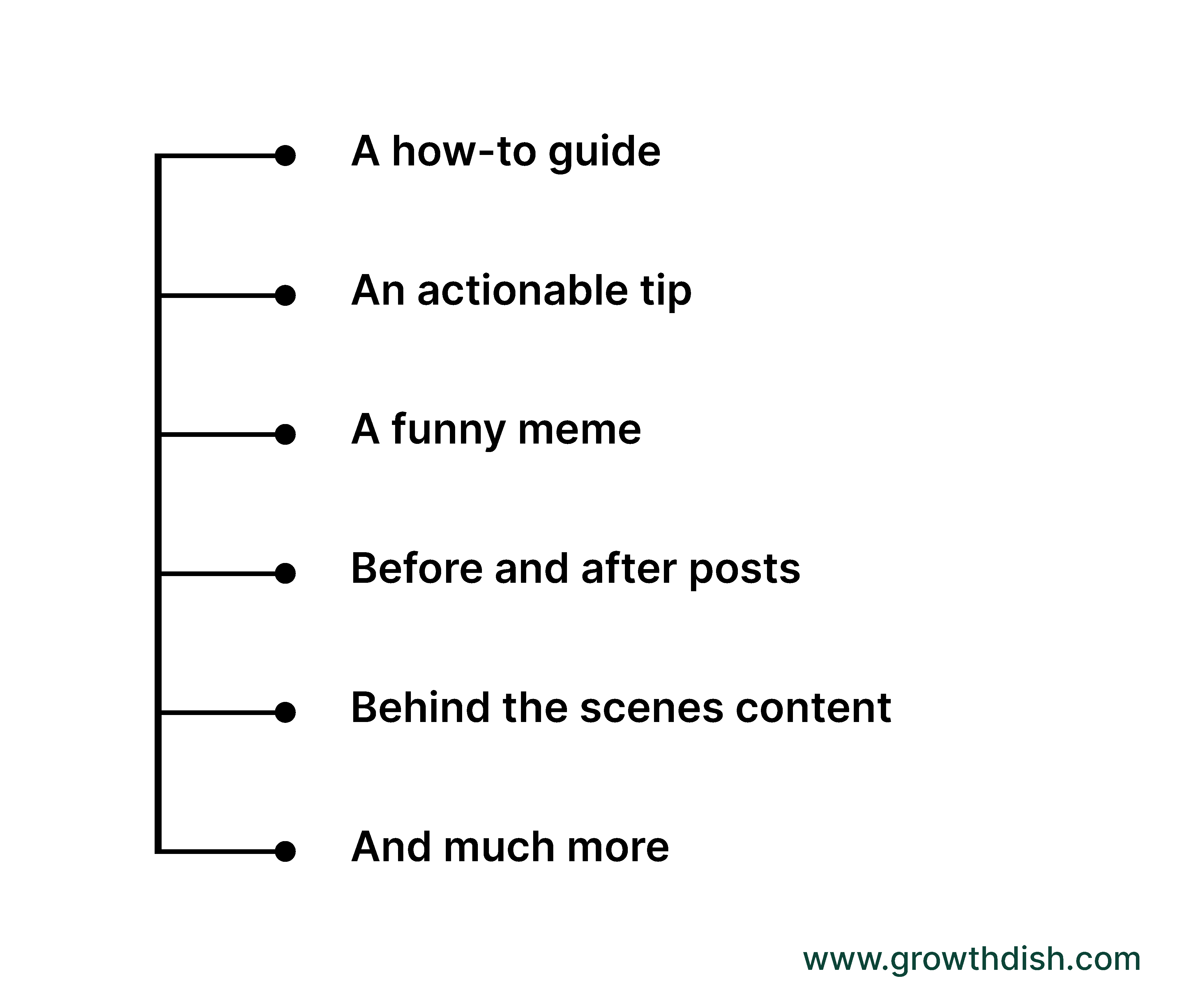 A how-to guide.

An actionable tip.

A funny meme.

Before and after posts.

Behind the scenes content. 

And much more.
Once you have the list of post ideas, it is time to decide when you are going to post. 
You can find the best time to post, by doing multiple experiments. It is always better to schedule your post for the next 15 days or 30 days to keep everything on track. 
If you are clueless about creating your content calendar you can download free content calendar templates available online. Alternatively, you can use tools like Canva to make your content calendar. 
4. Make Actionable Content
When you post something on Instagram make sure it is worth sharing and engaging with your target audience. 
Writing strong captions and creating interactive posts are the two important ingredients to make your post appealing to your audience. 
Include CTA in your post as well as in your caption to encourage people to engage. If more people start engaging with your content, the Instagram algorithm will boost your post organically to reach more.
You can share around, 
Funny posts. 

Giveaway contests.

Friend tagging posts.

Requesting their opinion.

Questions and answer posts.
These kinds of posts are proven to increase engagement with your content. To find which works better for you, you have to experiment with multiple types of content. 
You can use a free idea generator tool to come up with ideas related to your niche.  
5. Playing With Hashtags
Hashtags convey to the Instagram algorithm that your post belongs to a certain category. 
According to the analysis provided by Later, it is better to use more hashtags to reach a larger audience with your post. 
To reach more audiences you have to use hashtags that have more followers. 
You can find many hashtags by, 
Keeping an eye on your competitor, and taking inspiration from their work. 

Searching for relevant hashtags in your niche using the Instagram search bar. 
Note down all the popular hashtags in your niche. Keep on experimenting by shuffling the hashtags in your niche. 
You can also use some paid tools like Later, and Flick to find which hashtag is trending and which hashtag works for you to get more likes and comments. 
6. Engaging With Your Instagram Community
Regardless of your niche, it is essential to engage with other people and your fellow creators to bring more visibility. 
At your early stage of growth, follow people who are engaging with your competitors' posts. Make a bond with them, and they will automatically start engaging with your posts to bring maximum reach. 
But Instagram will block you if you follow more accounts from your competitor's followers. As per the rule, you can follow up to 160 accounts per hour. 
Try following hashtags related to your content and engage with other posts which are available on the same hashtags. Reply genuinely to every comment on your posts, and make your followers connect with you.   
7. Experimenting With Content Formats
With Instagram, you can post a single post, carousels, Instagram reels, stories, IGTV videos, and go live. To find the best format that brings more reach, keep on experimenting.
While posting a single post, tag your friends and family members to boost the host engagement. If you are trying to post reels, follow the steps to make a viral reel to boost its reach. 
Try going live with your followers and answer their questions or provide any value to them. It's okay to have only a few members in your life, but when you provide value, the count will increase. 
Try posting IGTV videos using hashtags. And whenever you post something new, share it on your story. 
When you comment on your competitor's post, other people will click on your story and visit your post. Try polls, and questions on your story to increase engagement. 
Bonus Tip 
Check the statistics of your post and check when your audience is online. Post on that particular time to get more engagements. 
Create high-quality images and high-quality videos that people would love to interact with. When you do this, the algorithm will boost it automatically. Develop healthy relationships between the bigger accounts in your niche, as it will bring more discoverability to your account. 
Now you know the strategies for how to get 1000 Followers on Instagram for free. All you have to do is to follow the steps for the initial days and create your strategies to level up your game. 
Pro Tips By Marketing Vishwas (15k+ Followers on Instagram)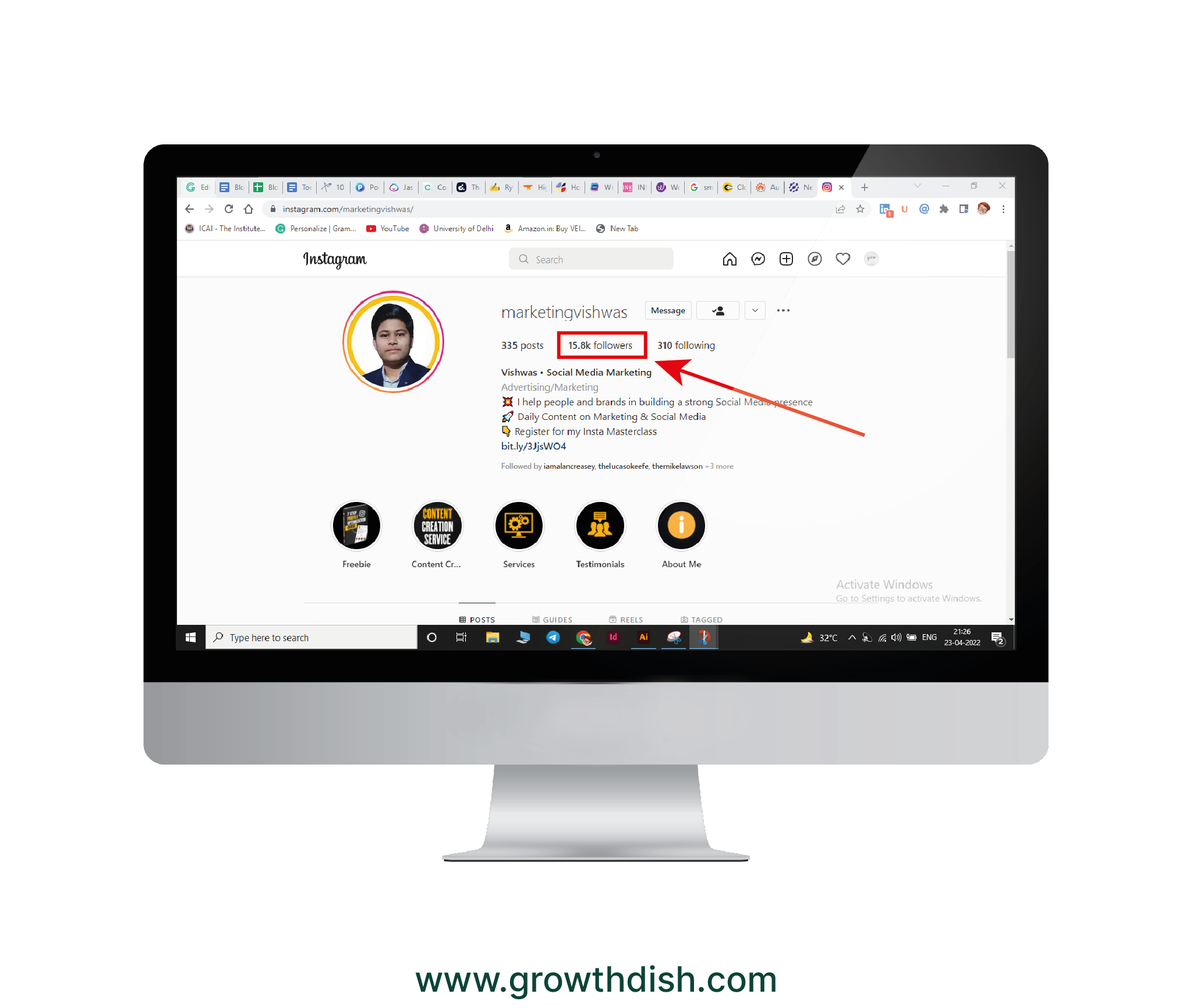 Create visually appealing content

Stick to trends

Engage and post consistently in the early days

Post engaging stories 

Reshape your good posts on your stories.

Reply to all your post comments and DMs. 

Develop healthy relationships between fellow creators. 

Use collab posts to get maximum visibility. 
Pro Tips By Shivanshu Aggarwal (1 Million+ Followers on Instagram)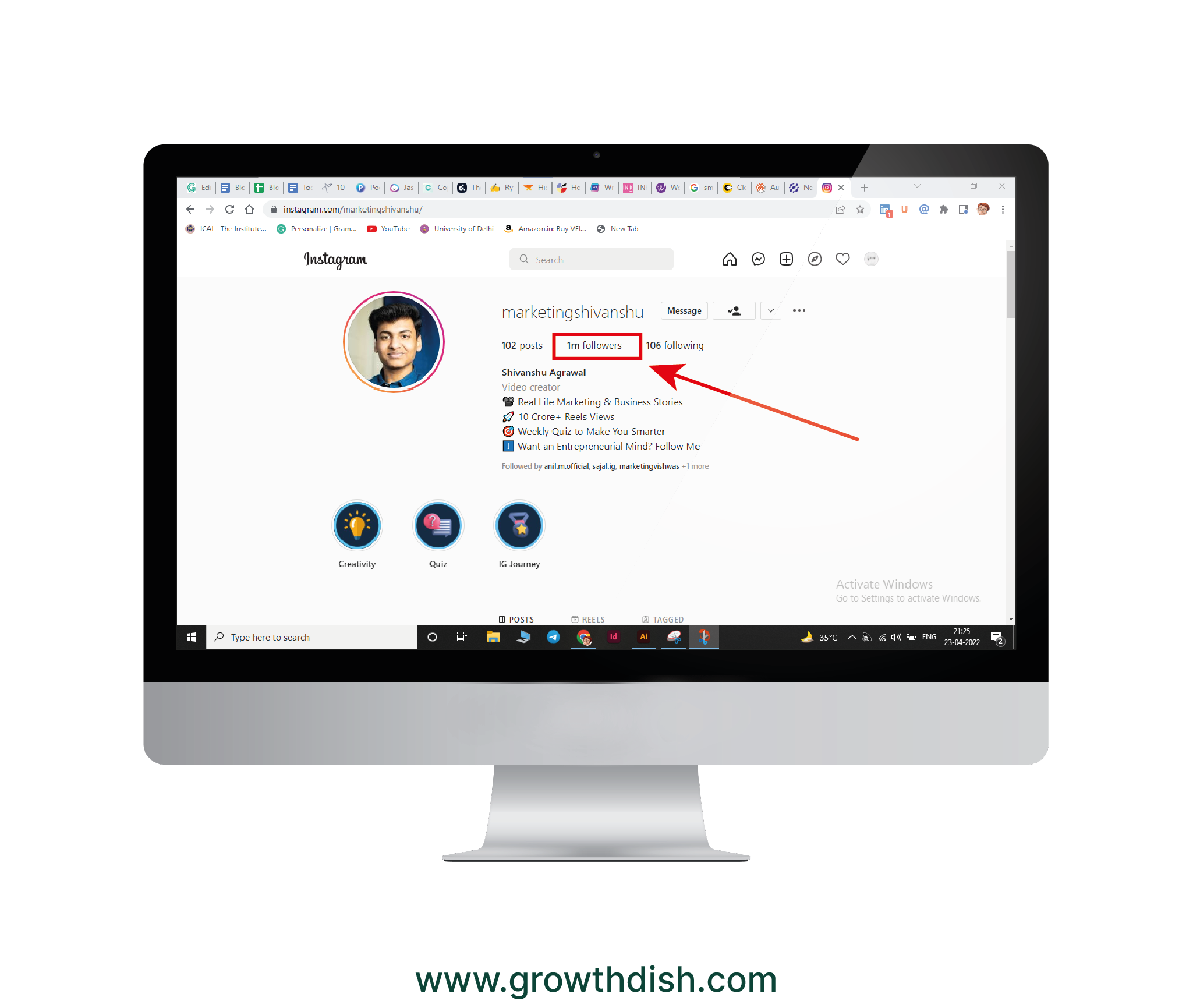 Start with reels – they are the best and easiest way to gain followers right now on IG
Focus on quality– there is ample content out there. People don't want more content, they want quality content.
Test more content ideas – keep posting and keep analyzing what is working and what's not. Eliminate what's not working and double down on what's working.
Continuous improvement – You can't grow on any social media being stagnant. Keep improving with every new piece of content. Improve editing, scripting, shooting, etc. continuously.
Optimize your profile- your profile must be simple and clear. People should get to know exactly what your account is about.
Wrapping Up
To become a pro player with Instagram, you have to understand both your audience and the algorithm. Though it is hard to go hand in hand with algorithms, it is always possible to understand your audience and help them with great content. 
If you follow the right strategy and map out the possible way to reach more audiences, you can grow steadily and in a short duration. 
Also, Read