Content Marketing Strategy : The Definitive Guide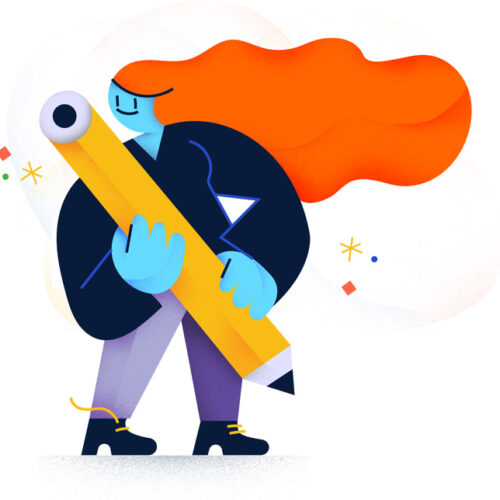 In 1996, Bill Gates, the founder of Microsoft published an essay titled, "Content is King". He predicted that in future, content is where money will be made on the internet.
Today, that quote is more relevant than ever. 
9 out of 10 companies practice content marketing and spend 25% of their marketing budget on content.  More than 70 million blogs are published every month and companies are boosting their content budget every year.
But, what do the numbers mean to a startup or an organization just starting with content marketing ? 
Does it mean your company should create as much content as possible every day only because everyone else is doing? What is the right approach? What topics should you cover and which platforms should you prefer to publish? And most importantly how do you measure the ROI?
There are many other questions that can bother you as a beginner and can be overwhelming. 
This guide will help you clear your doubts and formulate an actionable content marketing strategy. 
It's going to be comprehensive, lengthy, and pretty detailed. 
I am going to start with the basics, explain to you the importance of content for your business, and cover how you can do it by yourself, at minimum cost. 
So, bookmark this page, grab a cup of coffee, & make yourself comfortable.
Let's get started.   
What Is Content Marketing?
Content marketing refers to creation and promotion of relevant and valuable content to attract, acquire and build long term relationships with customers. 
A targeted content marketing strategy can help you stand out in the crowd, get your customer's attention, and fuel engagement. A clear and consistent message across multiple channels at different stages of the buyer's journey can help your sales team close the deal. 
For example, an interested buyer can discover you from a relevant tweet, know about your expertise through your blogs & website, and trust you after reading the case studies & testimonials. Finally, when he/she registers for a demo or discussion, it's much easier for you to convert a lead into a customer. 
This process might appear smooth, but it's not easy to create an online brand people can remember. 
It takes consistent hard work with little hope of results. To be successful you need a clear vision, strategy and dedication. However, the best part is, once you create, content becomes an asset that keeps giving. 
Content marketing is not about creating content that talks only about benefits of your product/service. And it's not about including offers and discounts to boost sales. 
Content marketing aims to educate first, sell second. It's about creating content that's informative, helpful and solves a problem of your customer. 
When you give highly valuable information to your audience for free, it builds trust – which is the most valuable asset a company can have. 
Do You Really Need a Content Marketing Strategy?
Let's say you have a product that's the best in the world and you have the numbers, analysts' report to prove it. But, when you want to sell it, do you know what works?
Good story. 
You need a good story to connect with customer's emotions, relate with their beliefs and build trust. Because buying decisions aren't always rational, it's impulsive and subconsciously made. 
The truth is we all love stories. Stories with emotions to which we feel connected. And that's what good content marketing is all about – storytelling.  Consumers usually prefer brands that reflect their personal beliefs and create a desire about the product/service. 
Here's a bunch of data to help you understand the importance of content marketing. 
Content marketing generates over 3X more leads than outbound marketing  

It costs 62% less than traditional marketing. 

60% of people are inspired to know more about a product after reading an article

90% of customers feel custom content useful

82% of marketers who blog see positive ROI from inbound marketing
What are the benefits of Content Marketing?
Creating content is hard work and takes time, but the benefits are equally good. 
Once you create high quality content, it can give you relevant traffic, audience for months or years after it's published. 
Content marketing doesn't help you sell directly, but establishes you as a thought leader in the industry. It creates a platform your audience can trust every time. Content marketing allows you to nurture a long term relationship with your customer rather than short term sales focussed strategy. 
Here's a summary of the benefits of content marketing:
Builds awareness

Delivers value to customers. Helps you showcase your expertise

Reaches more people at a lower cost & it's measurable at every stage

Educates the audience, turns customers into loyal ambassadors. 
Fundamentals of Content Marketing
Before you jump to producing content, it's important to get the basics right. A strong foundation will help you stay focussed, be more productive, and get success in the long run. 
Here's what you need to do to make sure your content marketing strategy is effective. 
Create Buyer Persona
A common mistake people make is that they create a hypothetical customer profile and make an imaginary story about a person and the family. 
But, your audience is not imaginary. Your customer is someone real, who is looking for a solution, and is willing to pay in exchange for the right value. 
By definition buyer persona is a composite sketch of target market based on validated commonalities that actively informs content strategy to drive productive buyer engagement. 
A rough buyer persona would look something like this:
Your customer works in a certain organization, is xx years old, and has a family. There are challenges he faces at work and struggles in a few areas. He/she is also good at a few things and dreams big in life. Every minute detail is important – from daily habits, the instagram pages they follow, magazines they read to the role models they follow. 
It should be based on research, real data and represent a cluster of your target audience.
Well-crafted marketing personas can help you create targeted, effective messages that speak directly to a certain audience. A series of campaigns targeted at different buyer personas can make a better impact on customers mindset. 
So, how do you create a buyer persona?
Interview people who can be your customer. It can be an online survey or an offline door-to-door campaign. 

Research your audience on social media using analytics tools and your competitors. 

Identify customer pain points

Understand needs, wants and desires of customer

Segregate the types of target audience to create multiple buyer personas
Buyer Journey Stages
Some call it a sales funnel, some say its path to purchase, and others prefer to call it buyer journey. 
All the three terms refer to the same idea that people go through multiple decision stages, before they make the final decision to buy a product/service.  Every decision stage is an opportunity for marketers to educate, persuade, and build relationships with customers. 
While the number of stages differ from business to business, here's a broad classification you can refer to. 
Stage 1: Discovery – At this stage people are looking to know more about your product/service. It's preferable to share information that's educative and helps people trust you. 
Stage 2: Engagement – Delivering a memorable customer experience is what makes your customers get interested in your brand. This stage is all about building trust. 
Stage 3: Consideration – At this stage, customers research actively and look for expertise information which they can rely upon. You can share product specific information to keep customers engaged. 
Stage 4: Closing – Buyers are finally ready to make a purchase and start a relationship  
Stage 5: Advocacy – Once they have made a purchase, it's time to turn them into brand ambassadors and loyal customers for lifetime.  
Establish Brand Voice
Consistency of message across all channels helps your customers quickly identify and relate to your brand. 
When you create content for website, blog or social media posts, the style of writing becomes your brand voice. You can be playful in twitter and professional in LinkedIn, but consistency is crucial. 
Once you decide the style you want to follow, make sure everyone on the team is aware of the style guidelines and follows them. 
Hire Specialists Team
Identifying the right talent, building a team of specialists, and inspiring them to a common goal is never easy. 
Make sure you hire carefully and explain to them the brand guidelines, buyer persona, and the ultimate goal of your business. Only when your team relates to your vision, they will feel inspired to deliver the best output. 
If you have a small business or tight budget, hiring full-time writers, designers is not necessary. Freelancers are perfectly fine for this kind of work and you can save on office space.
How To Create a Content Marketing Strategy
Now that you understand what content marketing is, it's importance, and you have a foundation, let's understand how you can create a content marketing strategy for your business. 
Step 1: Define Your Goal 
What is the final objective of creating a content marketing strategy? Why do you want to create it? Do you want more awareness or business leads?
Goal setting should be realistic and agreed upon by your team. Setting unrealistic goals can unnecessarily put pressure on your team and affect productivity. Know your goals before you start working on your plan, you will be better at choosing a strategy. 
Step 2: Audit Current Content 
If you have existing content on your website or blogs, it's best to have a content audit before you start implementing your plan. Analyze the available content and identify the ones which need to be updated, re-written, or deleted. 
Upgrading and re-writing existing content to brand guidelines is important because inconsistent messages or tone can confuse customers and erode the tower of trust you aim to build. 
Step 3: Identify The Keywords
Organic traffic to your website or blog from search engines can continuously give you business without any effort. But, to get organic traffic to your website, you need to rank high in the first page of google – not an easy feat. 
Identify the related search terms used by customers to know more about your product/service. Then, publish highly valuable and informative articles using those keywords. 
Here's a list of tools you can use for keyword research:
Keyword Planner by Google Ads

Usersuggest

SEMRush
Step 4: Define Key Performance Indexes (KPIs)
How are you going to measure the success of every content asset that you publish? Is it the number of visitors or reach? The number of social media shares or conversions?
Measuring content marketing is not an easy task. Every article might not give you the results you want, but, it builds trust and helps in constant engagement. But, how do you measure the productivity of your team?
Before you finalize the KPIs, share it with your content team and reach a common conclusion. 
Step 5: Brainstorm Ideas
Coming up with new and unique content ideas is never easy. It's common to face a writer's block when it's a daily job and you have deadlines. (Not to mention frustrating.)
That's why you should arrange brainstorming sessions. Invite your team members for a discussion and encourage new ideas that can be converted into a blog topic or an infographic. 
But, when the agenda of a meeting is to discuss ideas, team members can easily get carried away from the final goal. 
Here's what you can do to make the brainstorming sessions more productive:
Break the discussion into phases and decide the time limit

Encourage free flow of ideas and write it on a board

Invite less and only interested people 

Play word games to construct ideas

Break and build thoughts
Step 6: Create Content Calendar
A content calendar is a sharable resource used by every member of the team to visualize and track content activities. As compared to a list, a content calendar gives you a 30,000 ft. view and helps you identify gaps and better manage workflow. 
Additionally, a content calendar creates accountability for the team members and helps you stick to deadlines. 
Here's how a typical content calendar looks like:
Step 7: Content Type
Once the planning is over, it's time for creation. But, how do you decide what type of content will resonate with the audience the most? Should you write a blog, make a video, create an ebook or infographic?
Here's a high level view of the formats of content:
Text or Written Content
Written content is a popular, widely consumed and trusted source for information. But, if you think good writing is all about gathering data, including research and expressing ideas, you need to think again. 
Great content that can generate business is about telling a story in an inspiring, engaging, and an interesting way. You need to find a proper balance of informative and persuasive style of writing. 
You don't need to be a great writer to start writing content. What's important is understanding your customer's needs. Then, all you need to do is help them solve their problem with high quality information. 
Visual Content
Research shows that 90% of information that comes to the brain is visual and presentations are 43% more persuasive when it's visual. 
As a content marketer you can't ignore that data. Whether you are writing a blog or making a presentation, adding a visual to make the information easy to digest is definitely going to boost engagement. 
Infographics, Instagram posts, pictures, Memes, GIFs, diagrams, screenshots, and slide decks are common types of visual content you can start with. 
Video Content
The age of video content has already begun. Here's a quick fact check. 
Companies are doubling their video budget every year and 24% of businesses publish a video every week. A Google report found out that users spend 74% of their online surfing time on youtube. 
To start creating videos you need to set up a mini studio.  Buy a DSLR Camera, lights, and microphone for professional videos. Alternatively, you can use your phone to get started. 
Some popular platforms to publish your video are Youtube, TikTok, Twitter, Vimeo, Facebook, IGTV, Instagram Stories, Twitch, and Snapchat. 
Audio Content
If video is ruling the internet right now, the next boom is going to take place in podcasts. 
A podcast is an audio channel available online for free, believed to be the most intimate way to consume content. 
To start a podcast you just need to start talking & record your voice. Once you record a series of audio files, you need to edit it and host it on podcast hosting services like Anchor, Soundcloud, Audioboom, and Podbean and then publish it on channels like Spotify, Google Podcasts, Apple Podcasts etc. 
How to promote your content?
The internet is a crowded place and everyone is trying to get the attention of buyers. Unless you make some serious effort to promote, your content will get lost in the web. 
One of the questions that people ask is how much time should you spend on content promotion? Industry expert Derek Halpren from Social Triggers recommends to spend 80% of the time in promotion and the remaining 20% in creation. 
It's important to choose the right channel to find your target audience, so that you get maximum ROI from your efforts. 
Here's a list of distribution channels to consider:
Email
A lot of people think that email marketing is dead. 
That's not true. Research shows that 85% of internet users have an email and email marketing is still the most effective marketing channel and possibly the best marketing strategy for your business. 
But, if you send emails without their permission it's never going to work. Cold emails are one of least effective marketing campaigns. The best way to capture emails is by asking visitors to subscribe to a newsletter or download an ebook on your website. 
This way, you only get interested people in your email list. By sending valuable information in a strategic way, you can nurture the leads into loyal customers over time. 
Email list is the most valuable asset for business. You can boost traffic to your website, drive engagement, introduce a products/service or sell a course. 
Social Media
People spending too much time on social media might be a distraction for kids, become a reason for accidents, and kill productivity for employees. But, for businesses it's an opportunity. 
An opportunity to target audiences based on interest, habits, and preferences. And, how exactly is that possible? It's because we share our personal details on social media and express ourselves with an open heart. 
An active social media presence helps you engage with audiences outside business timings. It helps you drive communication with consumers, create trust, and build your brand. With more than 3 billion people on social media, it's an opportunity for companies to spread awareness, generate more leads and sales. 
Influencers
Influencers are experts in their niche with followers. They may not be celebrities, and nobody might know them offline. But, what makes them influential is their fan base on social media. 
An influencer can be a photographer, fashion designer, or a writer. They can be on any platform like Instagram, Facebook or Quora and can have less then 10,000 followers. Yet, they have built the reputation as an expert among their followers. 
To promote, identify influencers in your field, and build relationships with selected influencers which benefits both. When an influencer mentions your content on their channel, you get the benefit of an established follower base. 
Online Communities
Internet communities are a hidden gem for marketers. You can find all kinds of communities from astrophysics to cooking on platforms like Reddit. 
Research and identify relevant communities and engage in discussion to provide valuable information instead of pitching. 
Guest Posting
Writing a high quality article for a website with high traffic can get you interested readers, build your brand, and a backlink for better SEO.
Identify websites that accept guest posts in your niche using tools like Guest Post Tracker. Most of them will have elaborate guidelines for writing a post. You need to write to them about the topic you are planning to write and check if they accept it. 
Once you write the article, you can coordinate with the team for editing and formatting before it's published. 
I know it sounds like a lot of work and a time consuming process, but it's one of the best ways to get high quality backlinks and relevant traffic for your business. 
Paid Promotion
Creating paid campaigns on Google and Social media to promote your content can be a good idea if you are looking for immediate results. 
Content Syndication
Content syndication means reposting your content on other websites that have established processes to get exposure to a bigger audience. 
But, isn't that content duplication, and why do websites do that? 
Well, large publications collect partial or complete articles from the internet and publish it with credit to the original author. Such articles usually have a link (canonical link) to the original article helping google understand that it's syndicated, thus avoiding SEO issues. 
If you are new to content syndication try reposting on Medium, Quora, Linkedin pulse, and Tumblr – a great place to start for beginners.
How to measure content marketing performance?
Now we know the importance of content marketing, we know about the foundation, and how to create and promote content. Yet, the cycle isn't complete. Unless you measure the impact and analyze the performance, you won't be able to identify your mistakes and improve. 
So, how do you measure the effectiveness of content marketing?
The simple answer is by establishing KPIs for each type of activity. Whether it is writing a blog, social media post or a guest post, we need to define the metrics before we begin working on it. 
Before measuring performance, we need to decide the goal. 
If the goal is brand awareness, the possible metrics are – website traffic, page views, video views, reach of campaigns, and referral links. 
In case of engagement, the metrics are – shares, likes, comments, pins, clicks, forwards, and inbound links. 
When you are measuring leads, the metrics are – registration, email subscribers, blog subscribers, downloads, and conversion rate. 
The tools you will need to measure content marketing:
Google Analytics

SEMRush

MOZ

Ahrefs

Hootsuite

BuzzSumo

Grammarly

UberSuggest
Content is king. And will continue to dominate in the coming years. But, without a killer content marketing strategy you won't be able to sustain your success. 
It's important to understand the reason why you are creating content in the first place. Write your goals and document a content marketing strategy and share it with your team. Implement, analyze, and improve your performance with every cycle. 
All you need to do now is collect the stories you want to share with your audience. Polish it and frame it in a way that fits the needs of customers.