How To Become A Good Writer : The Complete Guide For Beginners
This is the ultimate guide to improve your writing skills.
By the end of this article you will have a clear road map of the things you need to do on a daily and weekly basis and know exactly how to become a good writer. 
After reading this guide, you will know
Book, blogs, and other resources you should read to improve your writing
Principles of good writing and Elements of storytelling
Writing process followed by professional writers
Action plan to improve your writing style
How to analyze good writing
My Story of How I Improved My Writing Skills
In 2014, I started my career in academic research. 
I was working as a management research associate at a university in Hyderabad, India. 
To be more specific I was writing Business Case studies – the ones that you read in management books and taught in MBA Colleges. 
Each case study would be 5,000 to 10,000 words long (on avg) and take around a month to write. It would go through a rigorous process of multiple drafts, reviews, rewriting and then get published.  
These case studies are published in journals, The Case Center London, and sold to universities and research institutions globally. 
You can see all the case studies that I have authored here. 
We had a small office and all writers in the team had a separate cabin with a table, chair, and a desktop. 
There was no micro managing. 
My boss would ask for an update once a week and guide me in the process. 
We were free to have discussions with other writers whenever we wanted to discuss, brainstorm, and go for walks around the campus. 
I remember, sometimes I would come to the office, read and research on a topic the whole day, take notes, and go back home. 
It was a different world. Coffee breaks in between work & intellectual discussions… 
As if the outside world didn't exist. It was like a writer's paradise. Like meditation. 
It was my first job and I desperately wanted to improve my writing skills. 
I read a dozen books related to advertising and writing, and tried to improve everytime I wrote. 
The rigorous cycle of reading, thinking, brainstorming, and writing helped me develop my skills to do research, articulate my thoughts, and tell an interesting, engaging  story. 
I won the Oikos International Case Study Writing Competition, Switzerland in 2015 and was mentioned in The Hindu and Business Line. 
But, was I able to write this way when I started?
No, absolutely not. 
My first couple of drafts were horrible. 
Now when I look at them, I find it hard to believe the way I used to write just a couple of years back. 
It took me a couple of years to grind and bring out the best in me. 
And I am still improving with every word I write. 
Today, I will share with you everything that I did to improve my writing in the first few years and inspire you to achieve your writing goals. 
I have compiled everything you need as a beginner to walk in the right direction. 
It's long, very detailed, and took me time to compose. Feel free to bookmark, save for later. 
Let's dive in. 
So, Why Should You Improve Your Writing?
Everybody knows how to write. 
But business writing isn't just about writing. 
It's about creating an impact, it's about persuading and convincing. It's about getting people to do something you want with your words. 
From writing a leave application, asking for promotion to negotiating a deal with your clients, the only thing that can make a difference is powerful writing. 
The sad thing is the writing style that you learned in school and college isn't enough to get what you want in real life. 
You need to make efforts to understand the principles of persuasive writing and the elements of storytelling to be able to convince anyone with your words. 
It's not easy. It's not something that you can build overnight. 
But, I don't believe that writers are gifted people. It's an art that can be mastered with practice – just like any other art. 
If you understand the basics and remember them, and you try to implement them while you write, you can definitely get better with time with practice. 
So, where should you begin? What should you do to improve your writing skills? 
Books To Read To Become a Good Writer
Read books on writing. 
To write better, you need to read a lot. 
Here's a list :
HBR Guide to Better Business Writing (150 pages)

100 ways to improve your writing skills

The Copywriter's Handbook

Ogilvy on Advertising by David Ogilvy

How to win friends & influence people by Dale Carnegie
You can download the PDF from here. 
All these books have immensely helped me in improving my writing over the years. Read at least 2 books. 
How should you read these books?
Have a pencil/marker. Underline important words. Make notes. Think on each topic before you move to the next. Pay close attention to how the chapters begin. Notice how the thoughts flow and how the impact it leaves you with. 
My favorite in the list is "HBR Guide To Better Business Writing" – A 150 page book that you can finish within 3 days and Ogilvy on Advertising – A collection of the best Ads of David Ogilvy along with analysis. 
This is a one time effort. 
These books will help you look at writing from a different perspective. So, that next time when you read anything be it a brochure, ad, news article you will know why it's so appealing. 
Blogs To Follow To Become A Good Writer
There are many more. 
But, these 5 blogs are a good place to start. 
Subscribe to the email newsletter and observe the writing style in the emails. 
Observe the storytelling. Observe the subtle art of persuasion in the writing. Observe the clarity of thoughts. 
When you read from the best, surround yourself with the best, you learn quicker. 
Follow them in all social media channels and keep yourself updated. 
How should you read these blogs?
I am not asking you to read each and every blog on these websites. Read only 2 to 3 and thoroughly analyze the writing style. 
Make notes on elements that you find are making the writing interesting, engaging, and unique. 
Bookmark your favourite ones and read it multiple times to grasp the storytelling element. 
How To Analyze Good Writing
Reading isn't enough. 
You need to analyse good writing, make notes, and find a pattern that's working in them. 
When you read the books and blogs I just told you, observe, notice, and absorb the following details :
How the sentences begin

Choice of words

Length of sentences, paragraphs

The hook in the introduction

The storytelling structure

Thought flow

The rhythm of writing

Use of power words

Use of anecdotes and examples

The depth of information

Use of empathy with readers
These 17 principles will help you make your writing more crisp, powerful, and engaging.
Principle 01 : Start with Why by Simon Sinek
Most of the companies construct their marketing message in the opposite direction. 
They talk about features, qualities, and benefits but don't talk about why they created it. They don't talk about their values, and beliefs and skip the core reason. They talk about What, How and Miss they Why. 
The golden circle says that companies should talk about why first and then talk about what they do and how they do it at the end.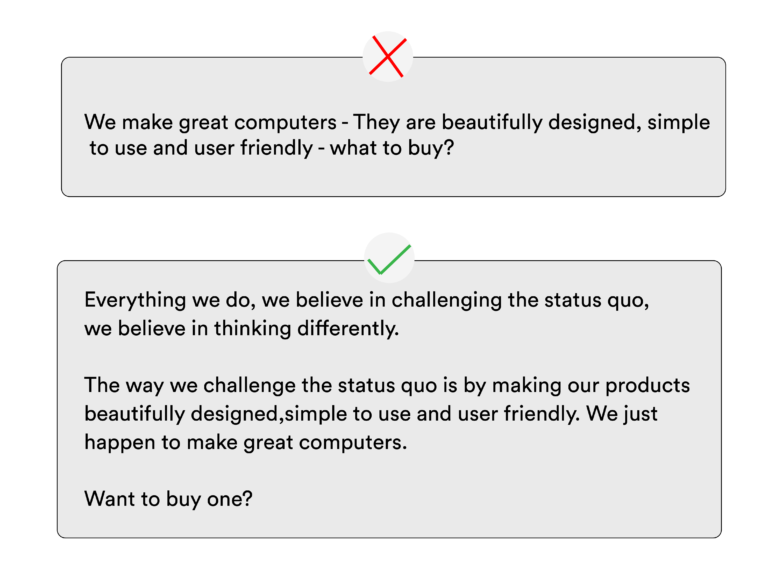 Principle 02 : Bottom's Up Technique
Prioritise the main point of the message first, then follow it up with context. Prioritise the results over the process and steps and then follow up with essential background. 
Most of the time, what people do is talk about the problems first, provide the details and finally at the end give the main point.
Principle 03 : Scannable Content
People don't read.
They scan. Then decide if it's worth going into the details.
Make it as easy for your readers to grasp the core of your writing by looking at it or scanning through the headlines. 
Principle 04 : Short sentences & Short paragraphs
Don't write more than 20 words in one sentence. Sometimes even 2 words can be a sentence. 
Short sentences and shorter paragraphs create an impression that it's going to take less time to read and it's fun to scroll on mobile – it's engaging.
Pro Tip: Press enter after every 2 to 3 sentences. 
Principle 05 : Passive Proof
Use active voice as much as possible. 
Passive voice slows down the speed, makes it feel like it's a dead animal. You need to make your writing come alive.
Principle 06 : Show, don't tell
Don't just write a statement and give your opinion. 
Provide relevant facts, create an unbiased content and let the reader decide the final decision. 
The details should bring out clearly the message that you want to convey. 
Principle 07 : Write like you speak
Avoid unnecessary words and jargon. 
Your reader should feel like you are having a one to one conversation with them. Sound like a human being, not an organization. 
Principle 08 : Use power words
Power words are emotions packed with persuasion. Power words have the capability to make the writing come alive when used intelligently. 
Here's a list of power words for you to use according to emotions:
Principle 09 : Write with empathy
Empathy is when you say you understand the problems of your readers, target audience because you have some sort of experience without judging anything. 
When you include empathy in your writing, your readers will instantly feel connected with you and relate to you. 
Go straight to the point in the first couple of lines. It saves time. 
When you save someone's time, you earn their respect – super important in business.
Principle 11 : Appropriate Tone
There is always a way to say things so that people don't feel bad. And a good writer takes care of how the readers feel. 
This is tough, but you will get it with practice. 
Principle 12 : Aesthetics is Important
Emojis, bold, italics, underlining, bullet points helps the content look aesthetically more pleasing and improves overall reading experience.  
It improves readability and adds variety to your content.
Principle 13 : Create Rhythm
Great writing is all about rhythm. 
Keep a delicate balance of short, long, sentences and paragraphs and use simple words.
Principle 14 : One Topic At A Time
Focus on one idea at a time.
When creating content make sure, your copy revolves around one major promise. Make sure the meaning is crystal clear and there is no confusion in the minds of the reader.
Principle 15 : Use Bucket Brigade
A bridge phrase you inject once in a while to break the monotonicity in your writing. 
The purpose of bucket brigades is to encourage the reader to continue reading.
Principle 16 : Use Second Person
The use of the word "You" makes the reader feel someone is talking to them personally. It creates a personal connection with the reader. Your audience will feel connected. 
Principle 17 : Write Catchy Headline
Writing a catchy headline that gets you clicks is not easy. 
Be unique, create a sense of urgency, be ultra specific and use facts. Make a big promise and use a headline analyzer tool. 
17 Elements of Storytelling
Storytelling is the hottest skill in the market. 
If you can tell a good story, people will pay attention and listen – that's the most important thing in marketing. 
These 17 elements will help you construct an interesting, engaging, and memorable story for your audience.
Element 01 : Start With A Hook
The first couple of sentences should leave your audience wanting for more. You need to hit the right cord with a hook and let them continue reading. 
5 Tips to create a hook 
You can write something surprising

Make a big statement

Create an emotional connection

Narrate a life changing incident

Ask an interesting question
Element 02 : Talk About Pain Points
When you talk about the problems your audience is going through and empathize with their situation, you immediately build a strong connection. It helps you create a common platform for you and your readers to talk.
Element 03 : Talk About Struggle
Create a sense of relatability by talking more about the struggle people are facing and how they wish the solutions were easy.
Element 04 : Show A Dream
Share success stories early in the story to keep your audience engaged and keep them intrigued to read till the end. 
Build hype by showing them what's about to happen next, or what your readers can expect by the end. People love to anticipate and know what's in store for them.
Element 06 : Don't Tell How
In the beginning don't show the tricks, don't explain, let your audience think about it. Ask interesting questions. 
Let them try to solve the puzzle.
Element 07 : Reveal the mystery step by step
A story is interesting only when you have the mystery intact till the end. You have to reveal it step by step. Whatever you promised in the headline or the beginning of the article, share it drop by drop and the last drop in the end.
Element 08 : Ask Relevant Questions
A good question breaks the pattern, helps your readers think about the subject and adds a layer of activity. 
Add interesting questions in between to keep the content conversational.
Element 09 : Create A Desire
Desire is the blood of a good story. 
Understand exactly what your audience desires to become, create or know, then talk about it.
Element 10 : Hit Emotions
You can drive action from your readers only when they feel emotionally connected with you. 
People will forget what you say, but they will never forget how you made them feel. 
Element 11 : Lean on Honesty
If you show honesty in your story , your readers will remember your story even if there were grammatical errors. 
Honesty makes your story genuine, authentic and helps you stand out in the crowd. 
Element 12 : Include Self Awareness
Describe a situation and where you had an important realization, your learning, and how you implemented the same. 
An element of self-awareness elevates your writing and makes it more humane.
Element 13 : Inspire And Motivate
If you can make people believe in themselves through your content and make it easy for them to take the first few steps, they will remember you forever. 
Inspiration and motivation is the key to adding the delight factor to your content.
Element 14 : Say With Authority
Only when you are confident about your content, research and ideas, will your readers trust you and believe in what you say. 
Your writing should be clear and reflect your confidence.
Element 15 : Establish Trust
You earn trust by being honest, sharing data, and being transparent about your journey and process. 
The tough part about trust is that it takes time. It takes time to build a reputation and be known for your speciality. 
Element 16 : Create Characters
One of the most underrated areas of storytelling is characters. 
When you create different characters with different beliefs you can create conflict to prove a point you want to say instead of saying directly. 
Element 17 : Resolution at End
You need to keep the promises you make in the beginning of your story and close the story. 
The ending is an excellent opportunity to create an impact and leave your audience with something to think, have a good feeling, and feel satisfied.
4 Stages of Good Writing: Qualities of A Good Writer
Follow this 4 step writing process blindly and you will be better every time you write something.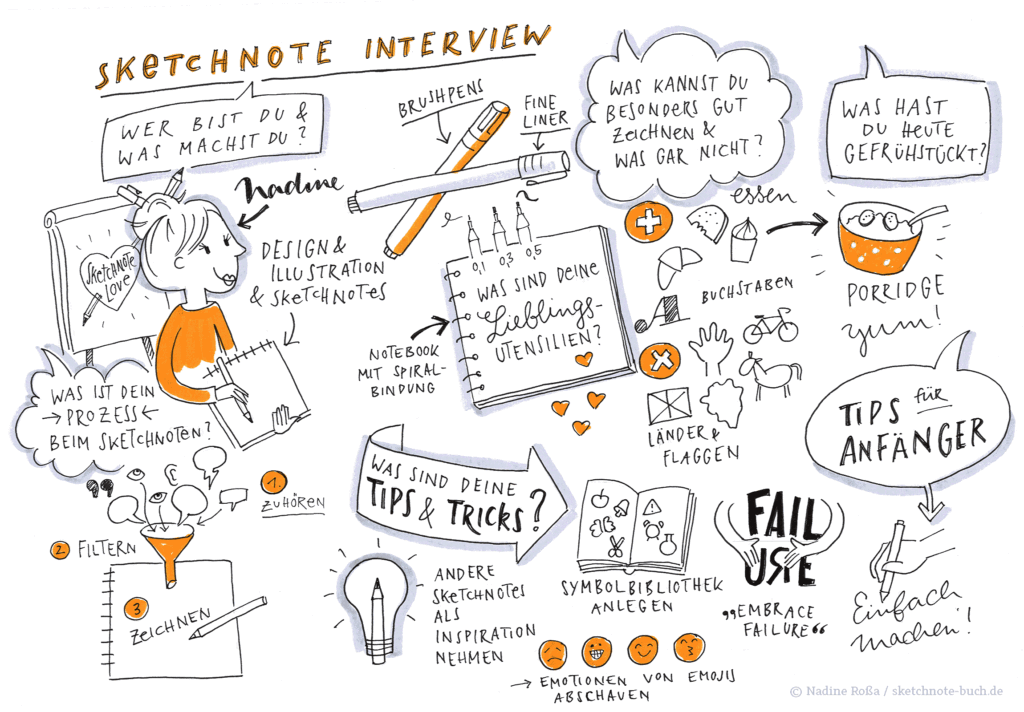 Read, research, and find as much relevant information as you can online and make notes. Don't think about how you will construct or write at this stage.
Categorize the notes that you made into different topics and create a small map of all the research work that you did at Madman stage.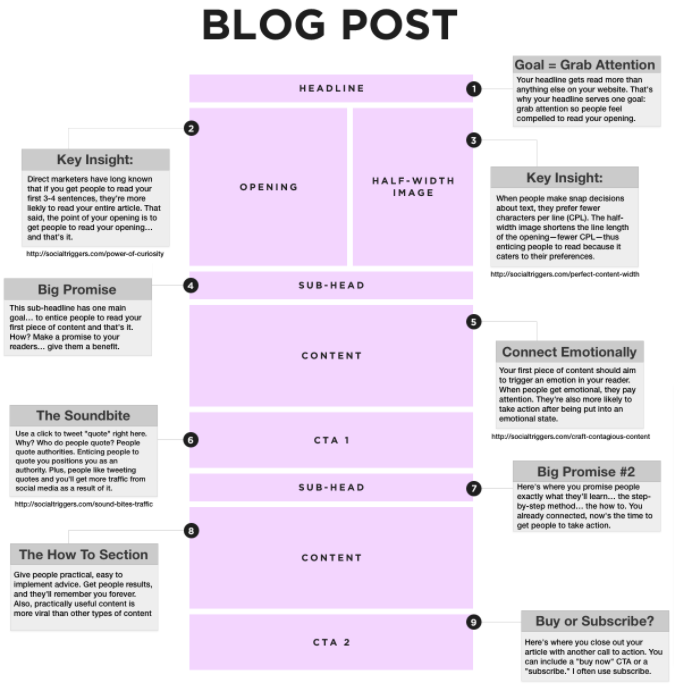 Create a flowchart of headlines, sub-headlines, and what you will include in each paragraph of the whole article.  
Start writing without thinking much about making it perfect. Let your thoughts flow and create.
Chop off every word that's redundant, if the meaning remains intact without them. 
Ask yourself couple of questions when editing :
Can I save some words

Is there a better way of phrasing the idea

Can I make it more interesting
28 Days Action Plan to Become A Good Writer
Freewriting is all about writing non-stop for a small duration. This activity will help you overcome your initial hesitation and get you into the habit of writing daily. 
Do two 15 minutes freewriting sessions every day for a week.

Set a timer for 15 minutes and don't stop writing for those 15 minutes.

Don't worry about grammar, having a point, or making sense at this stage.

Just write whatever comes to your mind

This practice will help you get started with writing.
Week-2 : Free write Journal
Free write journal is a mix between free writing t in the first week and traditional journaling.
Write about your day every night before you go to sleep.

Follow the thoughts that take you away from your Journal's topic and write about them till they cease.

Get back to journaling about your day after that.

Capture storylines, emotions, and details from your day.

This practice will teach you storytelling.
An outline is used to organize writing ideas about a topic into a logical order.
Create 1 outline every day for this week.

Be critical about your outline and make sure it makes sense.

Read and edit it multiple times till you are convinced that it makes sense.
This week you will use the outlines you have created in the last week to write articles or blogs.
Write one article every day for this week.

Pick one outline from last week and start writing.

Be thoughtful of your purpose, target audience, clarity, logical flow, details, and language every time you write.
Week-4: Edit and Proofread
This week we will pick what we wrote last week and fix them.
Take one article from last week to proofread and edit every day.

Check for grammar and consistency errors.

Understand basic grammar and check for it – article usage, punctuation, capitalization, and basic syntax.

Make sure you are consistent with tenses, numbers, capitalization, and how you refer to entities in your writing.

Repeat the editing and proofreading process till you don't find a single error.
Don't focus on becoming a writer. 
Focus on building a habit to read, think , meditate, and practice journaling. 
Words are mere dolls of the stage. It's the ideas that matter. Build your ideas. 
If you read, research, and think enough then put your heart into paper, your target audience will love to read your story. 
Write from your heart. 
You will shine.